Description: Cowford Polygnostic Institute of Education ; Preeminent Institution of higher education in Cowford and its environs. Know as "Cowford Poly" by its alumni (not to be confused with "Cowford Polly Burke", the infamous bathe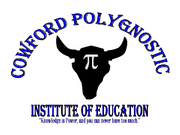 house operator in town) the locals tend to refer to it as simply "CowPIE". This mainly due to the distaste they have for the tradition of "Laboratory Cleaning" the week after a classes graduation, which has resulted in some of the more memorable disasters and other town events of the last century. Many of the students have adopted the the logo of the word "Cow" immediately followed by the mathematical symbol for "Pie" as a joking abbreviation of the institutes name. The popularity of the nickname among the student body has resulted in the adoption of the official school logo (pictured) of a Silhouette of a Cow Skull with the "PI" symbol imposed upon its forehead. The various colleges at CowPIE add a symbol (such as a gear for the college of engineering, or a wreath for the college of agriculture) with the color varying for each department in the college. (See the example from the Department of Mechanical Biology in the engineering college below.) Official school colors are "Ash Black and Blood Red"
Relevant Events
Related Personas:Professor Fate. (Jr. Professor of mecahnical biology, college of engineering.)
Doctor S. Chronotis (Professor of Theromodynamic and Temporal Mechanics)
Professor Von Ahrent (Professor of Babbage Computational Engineering)
Illustrations:
|- |Department of Mechanical Biology |School Flag
Ad blocker interference detected!
Wikia is a free-to-use site that makes money from advertising. We have a modified experience for viewers using ad blockers

Wikia is not accessible if you've made further modifications. Remove the custom ad blocker rule(s) and the page will load as expected.